Now Available!
Unrelenting Love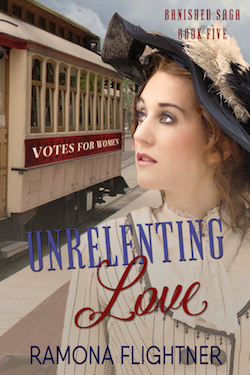 Book Five, The Banished Saga
Crushed…
After the disappearance of her beloved in the Great War, Zylphia McLeod focuses her energy on the Massachusetts referendum to grant women the right to vote. Unwavering in her love for Teddy Goff, she eagerly awaits any news of him. What will she do if he doesn't return to her?
Steadfast…
In her selfless dedication to her family, Parthena Tyler accedes to societal pressures in order to protect her sisters. Determined to play the piano and to continue in the struggle for women's enfranchisement, she discovers an inner strength to combat the pressure to conform. She soon discovers not everything is as it appears in her marriage.
Distraught…
At the loss of the woman he loves, Lucas Russell immerses himself in music composition. A sought-after piano maestro, he relishes in taunting society matrons with pro-suffrage songs while performing in their private parlors. As he struggles to overcome rumors and avoid scandal, he learns that commitment and integrity are as essential as passion when it comes to love.
Join the McLeod, Russell and Wheeler families in 1915 Boston as they champion a woman's right to vote, defend and celebrate their artistic pursuits, and learn that an enduring love is an unrelenting love.
Also Available
Tenacious Love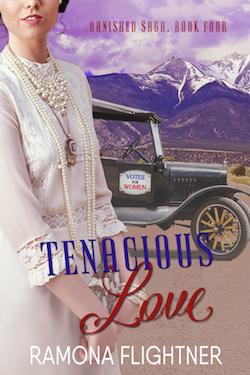 Book Four, The Banished Saga
Shattered…
By personal loss, Clarissa and Gabriel McLeod fear for their marriage. Blinded by anger, grief and remorse, Clarissa is unwilling to forgive Gabriel, a man who believes he does not deserve forgiveness.
Devoted…
To her beliefs, Zylphia McLeod defies society's acceptable role for women. As a suffragist, painter and volunteer at the orphanage, she clings fiercely to her independence. However, her budding friendships will challenge long-held beliefs and fears.
Resolute…
In their determination for women to receive the vote, the McLeod women march on Washington. After suffering a brutal attack, they remain committed to their cause. From Newport to Boston to Montana, they continue the struggle to ensure the enfranchisement of all women.