Now Available!
Undaunted Love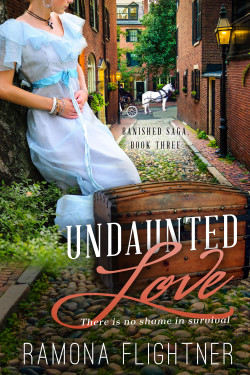 Book Three, The Banished Saga
Broken:
In spirit by the death of her daughter and by disillusionment with her marriage, Savannah Montgomery must find the strength to rediscover her sense of self-worth. Living in a mansion in Boston's Back Bay, surrounded by maids, she's learned wealth alone will not bring happiness. Submerged in a deep depression, a chance encounter brings friendship into her life. Will her friend's faith in her embolden her to embrace a newly envisioned future?
Disillusioned:
By his actions in the Philippines during the Spanish-American War, Jeremy McLeod believes he will continue to battle the darkness alone. Returning home to Boston's North End, wounded in body and spirit, he consigns himself to a solitary life. Working in his brother's workshop brings much needed solace, but will it be enough?
Dedicated:
To forging a life with her husband Gabriel, in Montana, Clarissa McLeod is determined to fulfill her role as wife. When actions from her past continue to haunt her present and threaten her future, will Clarissa trust in her husband's love and surmount her deepest fears?
Undaunted Love follows the McLeod, Sullivan, and Russell families as they struggle against injustice, persevere against loss and betrayal, and learn that the strongest bonds are the ones forged by loyalty and love.
Look for Undaunted Love in June 2015!
Also Available
Reclaimed Love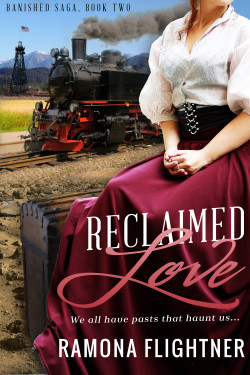 Book Two, The Banished Saga
Committed…
To living a life she desires with the man she loves, Clarissa Sullivan continues to teach poor, immigrant children and toagitate for the vote for women as she awaits Gabriel's return to Boston. Will her stepmother leave her in peace or is her life about to change again in unforeseen ways?
Convinced… 
Clarissa is the woman he now wants to marry, Cameron Wright renews his pursuit of her. Charming, wealthy and well-bred, he is perceived as the ideal gentleman for a blacksmith's daughter. With Gabriel far from Boston and his return uncertain, why should Clarissa continue to reject Cameron?
Devastated… 
After his banishment from Boston, Gabriel McLeod forges a new life in a remarkable city. Will the memories of the love he shared with Clarissa sustain him?
Will Clarissa overcome deceit and treachery and reclaim her love?