Undaunted Love - Part 2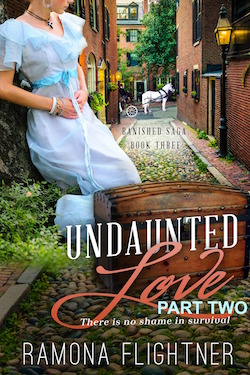 Book 3.5: The Banished Saga
Distraught…
After her loved one's death, Clarissa McLeod returns to Boston, only to discover Boston is her past and her future lies in Montana. When a ghost from her past emerges, Clarissa finds inner strength to protect her future with Gabriel.
Resolved…
To live her life with the man she loves, Savannah Montgomery must confront her husband, Jonas, to demand her freedom. She soon learns the depth of her courage as she faces her worst fears. 
Bold…
In his determination to live a fulfilling life, Aidan McLeod must address the actions of his past as he aids the next generation of McLeods.